King Cake
May 14, 2013
I had the pleasure of seeing Anthony Bourdain last night at the DAR. A first for me, as I was not very familiar with him and admit to not ever having watched his show, No Reservations (although that will change after last night), I loved every minute of it. He made me laugh and he made me think about food.
He started by reminding the audience that Paula Deen is possibly the worst cook for America. He emphasized "for America." He did not say "the worst cook" or "a bad person." His point was merely that should one eat only Paula Deen's cooking, one would most likely die sooner than someone eating a diet of protein and vegetables. He illustrated his story with images of the "Lady's Brunch Burger", which has 1354 calories, burger patties, bacon, all in a Krispy Kreme bun. As I have been strictly counting calories for the past few months, this dish scares me, and does not even look good… He also spoke about her children's cookbook, in which she presents the "Cheeseburger meatloaf", apparently a favorite. Deen's brand is based on the concept of excess: she presents her viewers with an unapologetic philosophy or over-consumption without any thought for the consequence. This can't be good for the country's waistlines…
After this irreverent start, he spoke for the duration of his presentation about what it takes to be involved with his TV show, No Reservations, peppering his comments with photos and video clips. He mentioned the characteristics of some of his team members, namely humility, a love of danger, and an ability (a desire?) to never disrespect a host, i.e. to be a good guest, always. Always follow "the grandma rule": "when you're in grandma's house, you eat what grandma cooks, no matter how bad it might be; that's just good manners."
He also reminded us that food is more than just something on a plate. "Sometimes you have the entire history of the world on your plate." When people give you food, he reminded us, "they are revealing something about themselves." Food is "an intimate gesture," it is something that someone hand-makes (think of hand-rolling sushi), then hands you, to make you happy. Food is to be respected: "never disrespect food or waste food," he preached. To him, places such as Olive Garden, Macaroni Grill, or the Spaghetti Factory are examples of people disrespecting Italian food…
Yes, he did swear a lot, yes, he was somewhat controversial – but that was part of the fun. After two hours, I left with a renewed appreciation of what food is – not just something to hurriedly put in my body when I am hungry, but something to appreciate, to honor, to savor.
1 Comment Click here to share your thoughts.
---
May 7, 2013
Last week I attempted to convince you that "D.C. style" is not an oxymoron by highlighting what makes D.C. unique -- a true world capital, cosmopolitan, stylish, and fashion-forward. In case the specific characteristics I discussed last week didn't convince you, here is another look at D.C. style, focusing this time on some of the city's most stylish residents. Here are their answers to these five questions:
1. Describe your fashion style in three words.
2. What fashion item have you bought most recently?
3. What fashion item in your closet to you cherish above all else?
4. What is the fashion item that is on number one on your wish list?
5. Where do you shop most in D.C.?
Marlene Hu Aldaba, owner of Hu's Shoes and Hu's Wear
1. Available for purchase...
2. Crystal, rock-stud strappy pumps from Valentino.
3. A vintage YSL clutch from my mom. It was the first thing she purchased after leaving communist China.
4. A raw diamond cuff from Dezso by Sara Beltran
5. Contemporaria for home furnishings, Johnson's Nursery for all things green, Karma Salon for hair/makeup products.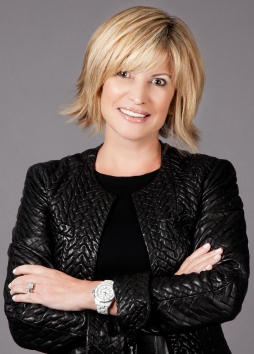 Tina Alster, MD
Tina Alster, MD, Director of the Washington Institute of Dermatologic Laser Surgery and Clinical Professor of Dermatology at Georgetown University Medical Center
1. Modern Chic.
2. Black leather vest by The Row.
3. My Hermes Birkin bag in black.
4. Azzedine Alaia knit dress in a fun summer color.
5. Hu's Shoes (Georgetown), Relish (Cady's Alley).

Stephanie Green, writer and photographer for Bloomberg Muse, the arts and leisure section of Bloomberg News.
1. Less is more.
2. Prabal Gurung black cape. It's very goth chic, but doesn't scare small children away.
3. My converses.
4. A guitar. What a fabulous accessory, and I really want to learn to play!
5. Georgetown flea market. It is a great place to find lovely little things. I have a blue cameo brooch from there that I get tons of comments on. I'm proud to say it's only $10.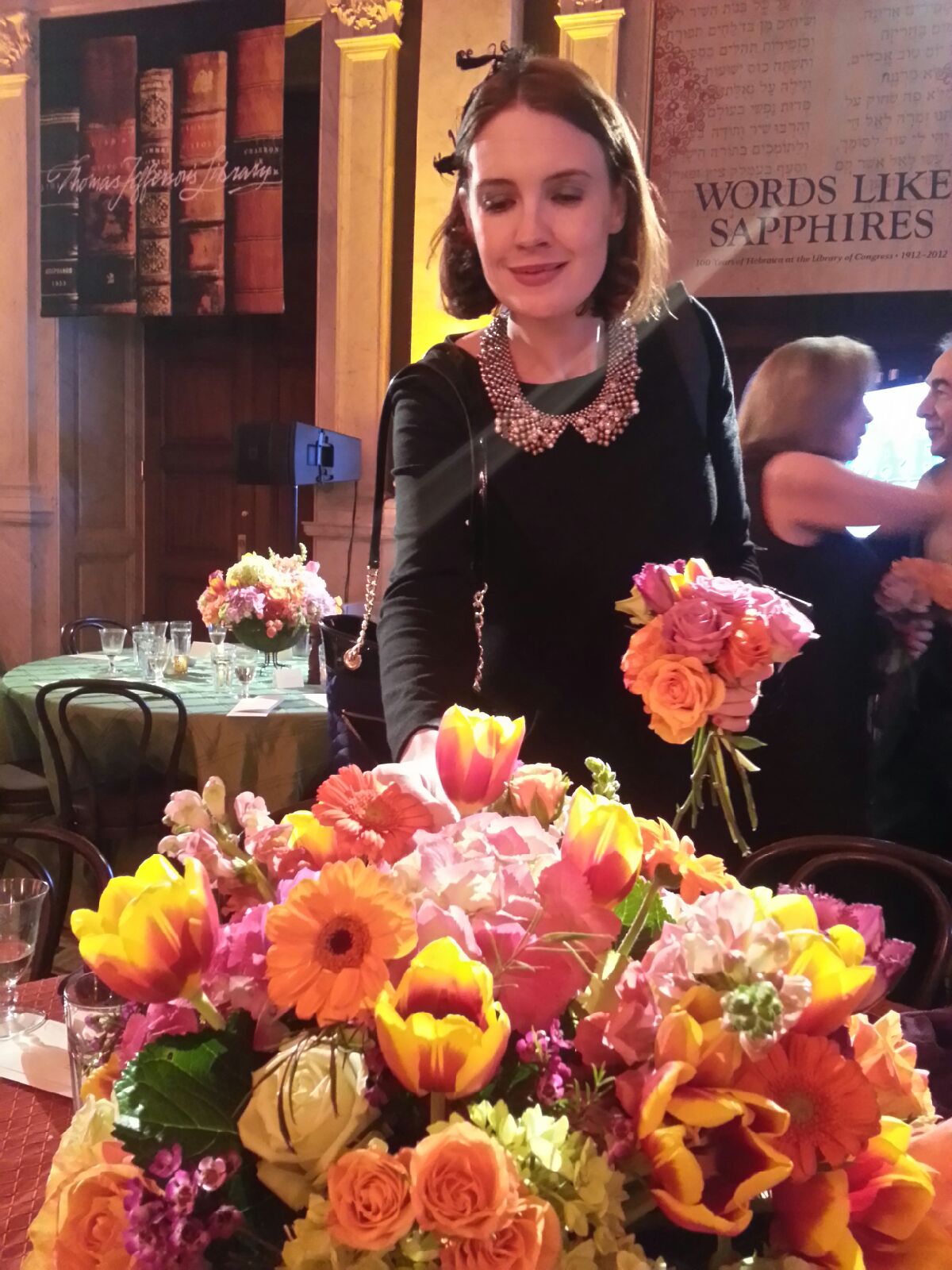 Stephanie Green
Mona Hamdy, Director, Office of HRH Princess Haifa Al Faisal
1. Eclectic. Comfortable. Feminine.
2. A three-ply silk jumpsuit by Isoude. I think it's what Jackie O. would have worn if she were one of the Charlie's Angels! I'm either going to wear it to the Academy of Art graduation in San Francisco, or for the opening reception of the Cash and Rocket charity car rally in Barcelona this summer. But with a pair of periwinkle Bloch flats. I don't think I can drive a vintage car in platform Gina sandals...
3. The Mona Bag, by HRH Princess Reema Bandar's accessories line, BaraBoux. It's the perfect travel handbag, holds everything, and goes from day to night without skipping a beat. Plus the leather and color are just sumptuous. I'm flattered she named such a functional, flattering prototype after me.
4. A vintage YSL smoking suit.
5. Relish and Muleh have the most quirky collection of thoughtful pieces. I love the pop up stores in Cady's Alley... I think those are serious skinny mirrors in the dressing room because I always end up buying way more than I anticipate. The treasure-filled salons at Saks Jandel make me feel like I'm in a really swanky episode of Mad Men. It's a throwback and totally modern all at the same time.
Lana Orloff, personal stylist and the owner of Lana Orloff Style Consulting Company
1. I would describe my personal style as classic and feminine.
2. Metallic colors and fabrics are in this spring, so I bought a metallic Fendi platform sandal.
3. My shoes... and a certain Dolce & Gabbana dress that I bought a few years ago. I think it will always be a staple in my closet. It's timeless...
4. There is a beautiful red Nancy Gonzalaz bag that I saw in New York. I would definitely put is on my wish list this season!
5. My favorite places in D.C. to shop are Hu's wear and Hu's shoes, Muleh and Tyson's Galleria.
Holly Thomas, Washington D.C. editor for Refinery29 and co-founder of Butler & Claypool
1. Vintage, rock 'n' roll, tomboy.
2. A Breton stripe sweatshirt and a retro pinup-style bathing suit.
3. A turquoise bracelet my boyfriend bought me while on tour out West.
4. Really great shoes -- deciding between Acne boots and Loeffler Randall sandals.
5. Redeem, Dr. K's, and Hu's Wear (if window-shopping counts!).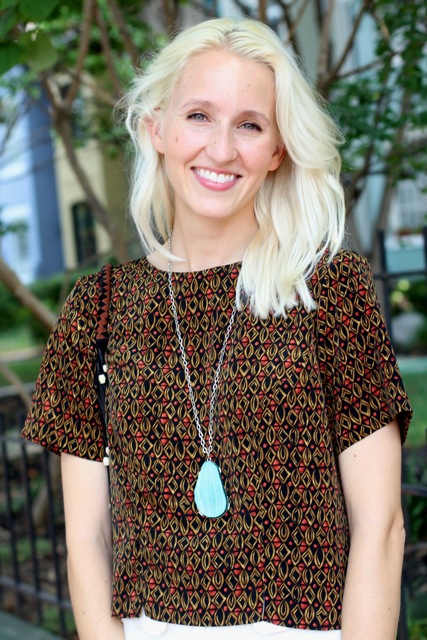 Holly Thomas
Aureta Thomollari -- Entrepreneur and Luxury Consultant
1. Eclectic, artistic and moody.
2. Black Chanel leather cut-off gloves.
3. A little purse my grandmother made for me when I was five years old.
4. Green Crocodile Hermes Birkin.
5. Santa Maria Novella and Inga's Once is Not Enough.
Anchyi Wei, Visual Designer
1. Creative, architectural, modern-vintage (oops is that four words?).
2. These Louboutin Manovra studded slingbacks -- the shorter heel for carrying the baby bump.
3. This Mary Katrantzou dress for the graphical prints and unique silhouette.
4. Currently, a Christopher Kane piece like this lace dress from Fall 2013 collection (if I was rich).
5. Dr. K's Vintage, Hu's Wear, Secondi.
Andre A. Wells, Owner/Producer, Events by Andre' Wells
1. Elegant, colorful and fun.
2. Gucci black lace up.
3. All of my Ralph Lauren suits: they are not only well made but they stand the test of time. The fabrics are incredible and the suits wear even better with time.
4. A beautiful made barn jacket and haven't been able to find it yet.
5. Everards Clothing, Ralph Lauren, Saks Fifth Avenue.
Click here to share your thoughts.
---
April 29, 2013
I fell in love with Washington, D.C. when I moved here for business school, so much so that I decided to base my beauty brand, Alchimie Forever, in the heart of Georgetown. To this day, people ask me why I made that decision. Their underlying question is always, "How can a beauty brand be based in D.C., a city known for its lack of fashion and style?"
I am constantly defending my city. We are not all about conservative unfashionable suits and black clunky shoes. Our residents have taste, are well educated, well traveled, and cosmopolitan. Our city has money: even in this economy and even with sequestration, the government creates a little bubble around D.C. that isolates it from the worst economic woes.
True, our aesthetic is overall understated -- we can't be flashy or gaudy, mostly because of the government thing -- but that makes our style and culture more refined. Over the past ten years that I have lived here, I have felt a renewed sense of art, fashion, and lifestyle.
Washington, D.C. offers the whole package. We are a true world capital, with style, culture, and a great culinary scene. You certainly know of the impact that Michelle Obama has had on the style culture in D.C., but here are 9 other reasons why Washington, D.C. is not as unfashionable as you might think!
1. The culinary and restaurant scene is thriving. Arguably one of the best chefs in the country, Jose Andres, is based here in D.C. Think Jaleo, Zaytinya, Oyamel, and more. If he doesn't do it for you, how about Fabio Trabocchi, James Beard award-winner, who left D.C. for arch rival New York City but came back to D.C.... and is opening Casaluca and Fiola Mare after the amazing success of Fiola.
2. The ultra-luxury Capella Hotel Group chose Georgetown to open its first property in the United States just last month. With the Grill Room, The Rye Bar, and the Rooftop Bar, this is a destination not only for overnight travelers, but for D.C. residents as well.
3. Washington, D.C. is the birthplace of André Leon Talley, former editor-at-large of Vogue magazine. "André doesn't have fashion. André himself is fashion,"- Manolo Blahnik
4. Sadie Lincoln, barre3 founder, opened her first barre3 location on the East Coast right here in Georgetown. Rag and Bone also chose D.C. as their first store location outside of New York. Apparently, D.C. residents are open to new workout trends and do like fashion...
5. We have our own crop of D.C.-born and bred designers, including Hugh & Crye, launched in 2009. This brand has become so popular, the founders are even featured in American Express ads.
6. Men's fashion in general is actually booming in D.C., as shown by the recent opening of SuitSupply, or made to measure custom work by Alton Lane or Michael Andrews Bespoke. And, J. Crew is opening a men's only store in Tysons (the only one in this region).
7. Designers are traveling to D.C. in person to showcase their latest collections, most recently Jason Wu and Diane Von Furstenberg.
8. For the first time, we have D.C.-based commentators such as Lauren Rothman (a fellow HuffPost Blogger) talking about DC style and fashion on national television, including on E! Tonight and CNN.
9. Style also involves culture, and culture is hard to beat here in D.C. region. The city boasts 85 theaters, 100-plus art galleries and museums and 17 Smithsonian Institution museums.
Thank you to some of my most stylish BFFs for help brainstorming this article, including Aba Kwawu, Kate Michael, Zena Polin, and Lauren Rothman.
This article was published in Huff Post
2 Comments Click here to share your thoughts.
---